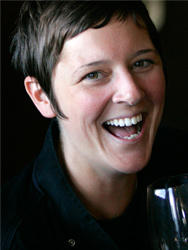 Chef Melissa Mayer
Chef/Consultant & Martini Media
Melissa Mayer is a creator with a purpose:
As a partner with Martini Media, Melissa blurs the line between artist and chef. As an artist, she is dedicated to creating and documenting the art, culture and politics of food. As a chef, Melissa is devoted to local and sustainable ingredients, preserving and promoting culinary traditions and bringing those principles directly to the table. Her entrepreneurial projects include writing about the politics of food and water, educating and promoting a greater understanding of sustainable food communities and engaging the public with multi-media creations that provoke and encourage a continued dialogue about food.
Melissa's culinary career quickly evolved from an apprenticeship with international chef and former chef to Robert Kennedy Family, Ann Bryan. That essential experience led to immersive international culinary travels of her own and continual education at the Culinary Institute of America in St. Helena, CA.
In 2006 Melissa was appointed Executive Chef for The Guild Restaurant + Lounge, opening it from the ground up. Her work there earned her awards and accolades both locally and nationally, including 1st place in San Diego Chef de Cuisine's Chef Competition 2007, a bronze medal in Food Network Challenge: Mac-n-Cheese, September 2007 and being named one of the Top 5 Chefs in America in 944's National Food Issue, November 2007.
While her craft and work earned her praise and recognition, Melissa's passion for responsible, sustainable food became as important as her ability to create memorable dining experiences. Melissa takes a responsible and ecological approach to cuisine - preserving and showcasing local farms' organic bounty while always celebrating the arc of an ingredient. Being a chef comes with responsibility to our farmers, to our land and to our waters. It also means we have an opportunity to make a positive impact; giving back to the food community while creating and knowing the small changes we make can lead to bigger ones. Melissa is a member of Cooks Confab, Chef's Collaborative, Slow Food Urban San Diego and she is Artist in Residence for the San Diego School Bus Farm Project.