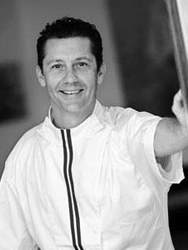 Chef Olivier Bioteau
Chef/Owner Farm House Café
Olivier started cooking 20 years ago as a child in the Loire Valley,
France and was inspired by his grandmother who raised 11 children, all
the while preparing homemade crepes in the family hearth. Meanwhile,
Olivier's grandfather carefully taught him the fine art of fishing and
growing vegetables in the family garden. Olivier attended culinary
school in Saumur, France, at the age of 15; after graduating,he
quickly moved up to fine dining by performing his military service at
L'Elysee, the French Whitehouse, for President Mitterrand. From there,
Olivier worked in some of the finest French Michelin starred resorts
before moving to work at L'Aventure Restaurant, right next to famed
Abbey Road recording studios in London, England, where he cooked for
celebrities, movie and rock stars throughout his tenure.

Upon reaching American soil, Olivier worked for some of the finest
restaurants in San Diego for over 18 years. Olivier worked as a
personal chef in a private home in Rancho Santa Fe, California for 7
years and earned his Chocolatier Certificate from world renowned Ecole
Chocolat in Vancouver, Canada.

In June of 2007, Olivier was eager to return to the fast pace of the
restaurant world. He jumped back into the San Diego dining scene and
worked under Chef Colin MacLaggan of Avenue 5 Restaurant & Bar in
Bankers Hill from opening day through New Years Eve 2007.

On February 1, 2008, Olivier realized his life long dream and opened
his own restaurant, The Farm House Café in University Heights,
offering rustic, farm fresh, country French cuisine.